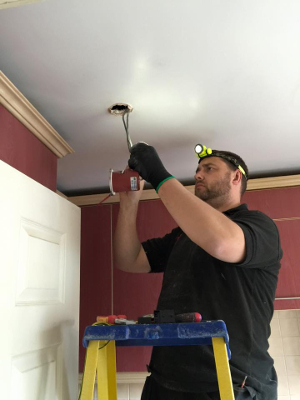 Hi, my name is Jason Lloyd, but everyone calls me Jay.
I started out as a one man electrical contractor. Later we became a father and son family business, progressing to a small, growing electrical and building maintenance contractor with a number of larger clients in the sector. As we've expanded further, we've also welcomed experienced electrician, and brother-in-law, Adam to the team.

On a personal level, I am a domestic and commercial licensed electrician, with more than 20 years experience, working across the North West of England.

As a business, we now have a growing team, with a variety of skills, enabling us to take on larger electrical and building maintenance contracts while still serving our original customer base.

Finding it difficult to choose an electrician?

Many websites in our sector say similar things, so I appreciate that it can be difficult to choose between us.
Everybody lists their qualifications, accreditations, the associations they belong to and a list of services as long as your arm. But much of this stuff probably doesn't make a lot of sense to you without doing a load of research.
So, how can you make an informed choice?

To me, there are 4 important ways you can compare electrical services:

You can follow the links above to see how we compare with others and whether you think we're the right people to help you.

Making the process as smooth as possible
In addition to the above, we always aim to provide a high quality service, not only in terms of the work we do, but in making the process as painless and pleasant as possible for you. This includes the following:
We stick to agreed appointment times
We listen to what you want
We put everything in writing so we both share the same understanding of what the work involves and what the outcomes should be
We keep you informed of how the work is progressing
After completing our work, we make sure that everything is left neat and tidy
We then send you any relevant documentation, such as safety certificates and reports
Finally, after the work is complete, you can always contact me by email, text or phone if you need any further assistance.
So, what makes us different?

It is difficult to pick out any single reason that makes us a better choice than other competent, qualified and experienced people.
Perhaps the reason why many of our customers choose us, and say that they'd recommend us, is due a combination of factors. Take a look at what our customers say about us for more details.
Can we help?
If you need someone to carry out your electrical work, or if you are interested in our tailored electrical and building maintenance service, then why not us a call on 07793 387287 or contact us via email.